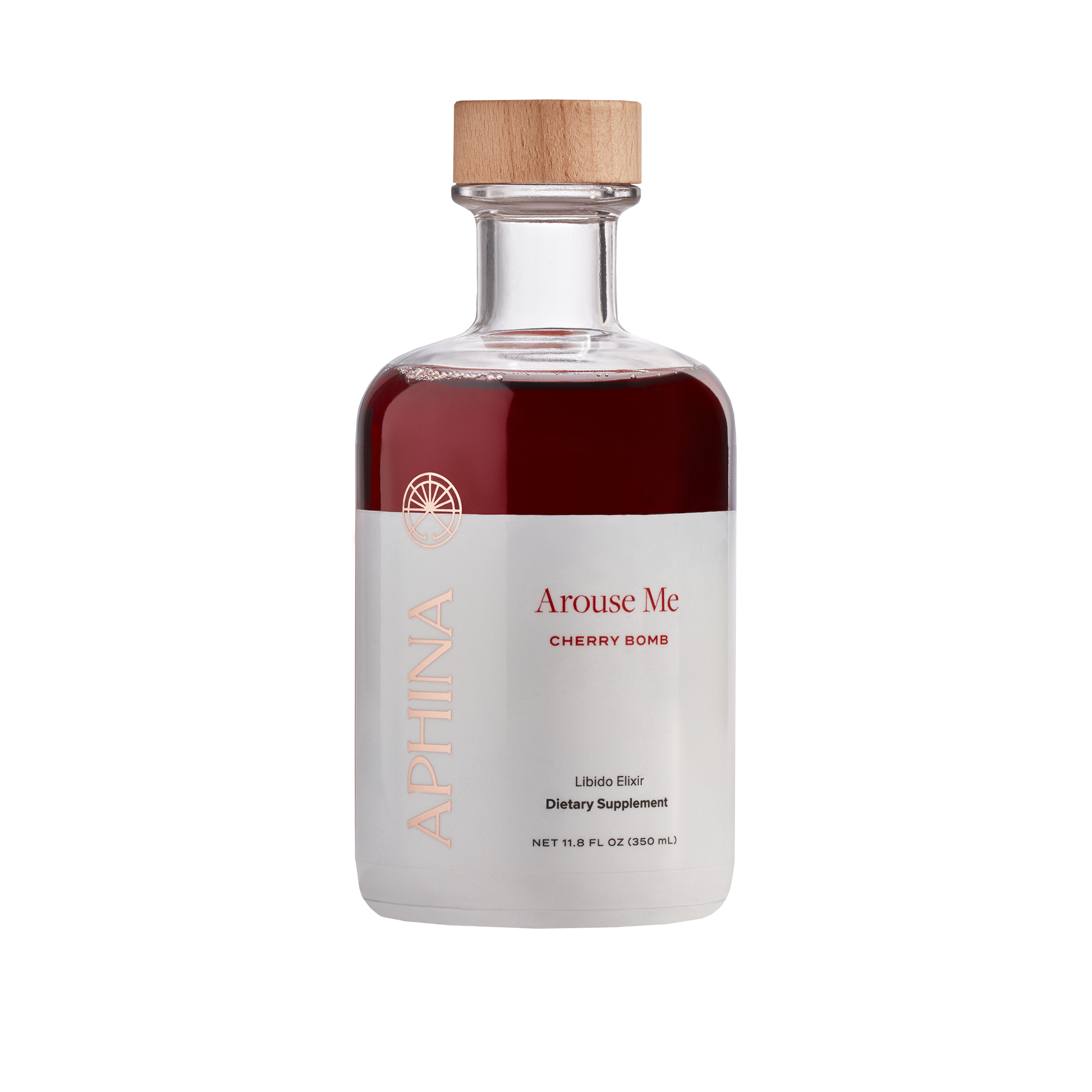 Arouse Me - Cherry Bomb
Arouse Me - Cherry Bomb Libido Elixir is a supplement formulated to support women's (and men's) sexual desire, arousal, and mood. Take it daily for long-term libido or menopause support, or for immediate sexual desire when you want to get in the mood.
KEY INGREDIENTS
Libifem® Fenugreek 33:1 Extract DHE 19,800mg – for sexual arousal, desire, and libido
Maca 6:1 Extract DHE 1,200mg – supports libido and menopausal symptoms
Black Ginger 20:1 Extract DHE 1,200mg – promotes sexual and physical health by boosting blood flow and nitric oxide
Help to increase sexual desire, healthy sex drive and libido in both women and men.
Helps to support emotional aspects of sexual health.
May help reduce menopausal symptoms such as hot flashes and night sweats.
Fenugreek is traditionally used in Herbal Medicine as a nutritive tonic as supportive therapy for the promotion of healthy glucose levels.
Mix 1 tablespoon (15ml) into:
A glass of water for a natural herbal taste (similar to a tincture)
A glass of flavoured soda for a slightly sweeter taste
A glass of cherry, peach, or lime juice for a delicious cherry limeade
ACTIVE INGREDIENTS:
LibIfem Fenugreek Extract, Maca Root Extract, Black Ginger Root Extract.
OTHER INGREDIENTS:
Organic Glycerin (derived from Coconut), Purified Water, Organic Sunflower Oil, Natural Vitamin E (as D Alpha Tocopherol from Sunflower), Organic Vanilla Extract, Organic Cherry, lime and Peach Extracts, Natural Red Color (Beet Root Extract), Gum Acacia and Citric Acid.
Unlike our elixirs which are high in water, our Arouse Me Cherry Bomb elixir has a liposomal delivery, improving the bioavailability of the ingredients. It also means the liquid is much thicker (like a sauce) and just needs a good stir to fully dissipate.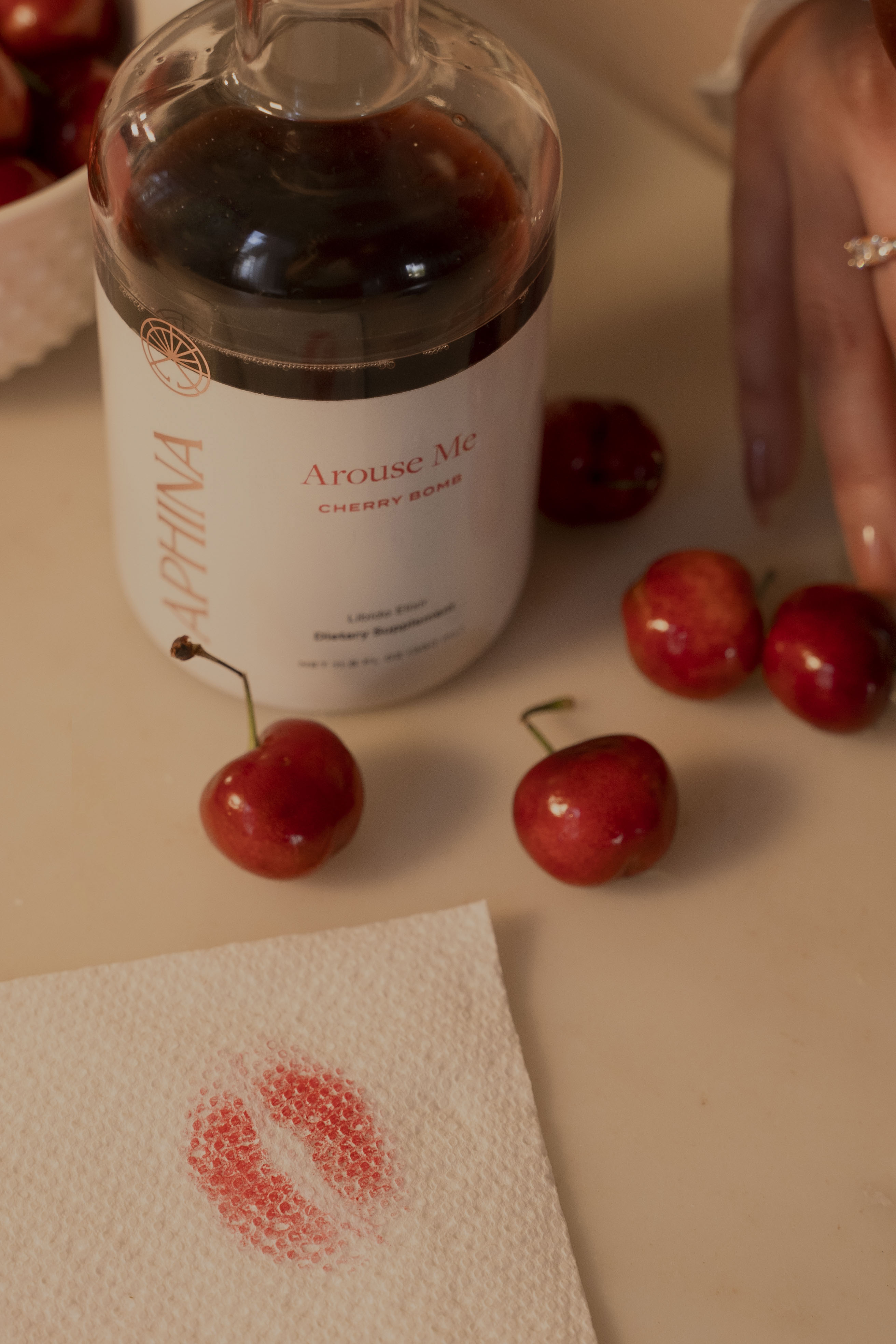 Let's Talk About Sex
We're on a mission to destigmatize the embarrassment many of us feel when it comes to our sexual desires. It's crucial to understand that struggling with your sex life is entirely normal. Everyday stress, hormonal fluctuations, and sheer exhaustion can all impact your libido. But here's the thing – it's all part of being human, and there's absolutely no need to be embarrassed about it.
We've formulated Cherry Bomb with this in mind. Our three key ingredients – Libifem® fenugreek extract, maca, and ginger extract – aren't just here to enhance your libido; they also work hand in hand with your mindset. Clinical studies back our claims, highlighting that sexual wellness is intricately linked to how we perceive it. So, embrace Cherry Bomb by mixing up a drink, getting out of your head and into the bed!
The most advanced libido elixir.
100%
of reviewers would recommend this product to a friend